In the matter of dress and ornaments, Kerala presents through the age a picture of astonishing variety. Simplicity and elegance of dress is a trait of the Malayali character. The common male dress is the white 'mundu' or cloth which is worn around the waist. A small upper garment ie. 'thorthu' is also worn over the shoulder.
Ornaments of different patterns are used by women of all communities and castes. These ornaments are for the neck, the arm, the nose, and the ankle. The oldest ornament of the 'Nair' women for the neck was the serpent's hood, so called after the shape of the pendant. Among other necklaces were 'nalupanti', 'addiyar', 'puthali', 'avil mala', 'patakkam' etc. The ornaments for the nose were 'mukkuthi' and 'nattu'. The 'Namboothiri' women do not wear costly ornaments. The 'Kaasumala' and the 'oddyanam' were the most characteristic of their ornaments.
Kerala Ornamental Designs have made a special mark in the history of jewelry making. The jewelry patterns having its origin in Kerala are unique and classical. These designs tend to lean towards creating a bigger look at the jewelry and have a dark yellow stint to them.
Keralites are one of the very few people in the world to wear golden anklets, while other consider wearing golden ornaments below the waist line to be ominous.
Kerala remains on top among the states where gold ornaments play a vital role in a wedding. Kerala marriages continue to include highest quantities of gold as sridhaan.
Traditional ornaments continue to influence even present gold designs and patterns of Kerala Jewelleries.
Kasu Mala (Kaasumala)

Palakka Mala

Nagapada Thali

Karimani Mala

Mullamottu Mala

Manga Mala

Cheruthali (Thalikoottam)

Addiyal

Kashali

Poothali

Jhimki
These above-listed ornamental forms remain an evergreen influence. Every household boasts of owning at least one of them. Even though it comprises only about 5% in case of the daily gold business, traditional gold ornaments remain a main asset of Kerala families.
Foreign and domestic tourists buy gold from Kerala. They are attracted by the variety of special traditional designs, mostly Kasu Mala, Palakka and Jhimki which are very popular among gold lovers around the globe.
Following traditional ornament pictures are artist's impression of traditional Kerala jewelleries graphically created in designer's perspective. They are not photographs of any actual gold jewelry.
Kasu Mala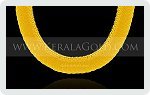 Palakka Mala
Nagapada Thali - 1
Nagapada Thali - 2
Karimani Mala
Mullamottu Mala
Manga Mala - 1
Manga Mala - 2
Kazhuthila
Cheruthali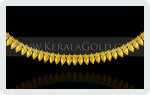 Avilmala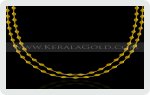 Avilmala - 2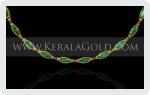 Kandassaram
Kingini
Kuzhiminni
Pulinakhamala
Kumbilmala
Pathakkam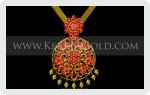 Lakshmimala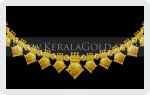 Poothali
Kuzhalmothiram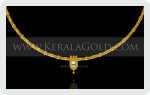 Thoda
Mukkolakkallu
Credits: KeralaGold